Welcome to Request
Request is an independent advertising sales company that represents the largest internet media and newspapers in the Nordic countries to the Swedish market.
We have been working with Nordic Media for more then thirteen years and have all the knowledge and connections you need for a successful communication in the Nordic area.
We help national tourism boards, marketing departments, media agencies and individuals to cost-effectively and optimally reach their Nordic customers. We know the special circumstances involved when doing promotion for national tourism boards; we are in constant contact with the tour operators and can help with co marketing campaigns.
Request is a commission based company, as a client you only pay for the media space and we always guarantee the lowest prices since we have the best contacts with Nordic media.
Nordic Media
Scandinavia is characterised by high newspaper readership. Newspapers have loyal readers in the most affluent audiences. Advertising is not regarded as a nuisance, but contributes to the overall reading experience.
The consumption of online media is continuously increasing. Online advertising is suitable for all kinds of advertising, we can offer everything from performance-based solutions to branding campaigns. We have the knowledge and the tools for successful online campaigns.
The use of mobile devices is rapidly increasing in the Nordic countries. We expect that internet usage from mobile devices will soon surpass traditional online media. Mobile devices are used to access internet throughout the day; in the morning, during working hours, on public transport, in the evening in front of TV, and at night before bed time.
It is a great advertising platform that soon will become one of the most important parts of a sucessful campaign.[/wptabcontent]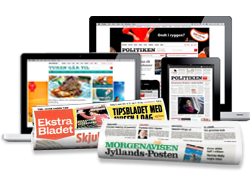 Request represents Denmark's leading media houses – Politiken, Jyllands-Posten and Ekstra Bladet. Thanks to their unique editorial profile and geographical distribution, we can provide a complete coverage of Denmark. With print, mobile and online media, we reach at least 70% of the Danish consumers, each day.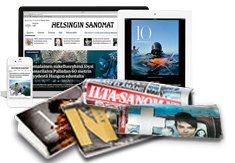 Request represents Sanoma and Kärkimedia, offering a complete range of media. Together we can reach out to 90% of the Finnish consumers.
Sanoma has media operations in television and radio, web and press. Among their newspapers are the largest, Helsingin Sanomat and the tabloid Ilta-Sanomat.
Kärkimedia Oy is a nationwide sales channel owned by 34 Finnish newspapers. Kärkimedia is the third largest media group in Finland and reaches more than 3 million Finns every day.
34 leading newspapers across the country
Overall range: 3.7 million
70% national coverage
Contact us today
a.  Stora Marknadsvägen 9, 5tr
183 34 TÄBY
Sweden
e. info@request.se
t. +46 707 67 02 79